Five Nights At Krustry Krab is a game that is based on the TV show "Spongebob Squarepants"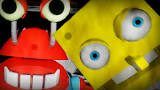 The game takes place in the Bikini Bottom restaurant Krusty Krab. the player needs to survive by using mechanics. failing to win will end up getting jumpscared by the animatronics , thus causing a game over
The appearance of the animatronics looks like the appearance of them on the spongebob movie spongebob: sponge out of water.